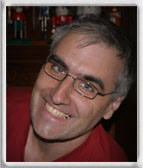 Here is the BIO that I currently provide to conferences etc. that briefly discusses my current work focus and career history. I have also made my full CV/Résumé available.

About Kelvin Lawrence
Based in Austin, Texas, Kelvin Lawrence is currently IBM's Director and CTO of the recently formed (August 2015) Emerging Analytics Technology Center. In that role, Kelvin and his team are focused on bringing emerging big data and analytics technology (primarily open source) to market via pilots with IBM clients and product teams. Kelvin also works closely with his colleagues in the IBM Research division. Before taking this role Kelvin was part of the IBM Cloud team in the role of CTO for Open Technology, in fact open technology has been a key part of his career focus for many years.

Kelvin is also an IBM Distinguished Engineer a member of the IBM Academy of Technology and an IBM Master Inventor. He is a published author and has been a regular speaker at conferences all over the World since 1993. He holds 86 issued patents across the United States, Asia and Europe.

Kelvin is currently focused on several different technology topics including Property Graphs, Big Data Analytics, Social Business, Computer Graphics, Web User Experience (UX) Design and information security all with a heavy focus on open source utilization,.

In recent years, as CTO of Software Standards, Kelvin was focused on the advancement, standardization and deployment of technologies based on XML and Web Services and on other emerging internet technologies. One such focus was the addition of security technologies to Web Services. Kelvin was co-Chair of the Web Services Security (WSS) Technical Committee at OASIS, which, among other things, produced the broadly adopted WS-Security specifications. He is also currently the co-Chair of the Web Services Secure Exchange (WS-SX) Technical Committee at OASIS. Kelvin is also very interested in many other emerging technologies, including HTML5, Dojo, jQuery, SVG and REST. Kelvin remains very interested in the "client side" of computing and as such is very interested in the developing trends around richer web based user interfaces that are being built using open standards from OASIS, the W3C and elsewhere. He is a strong advocate for richer browser based user interfaces and declarative application design (using XML and code together).

Prior to this current roles, Kelvin was IBM's CTO for XML Technology, in fact he was one of the first two people in the IBM technical community to be given the CTO moniker. In that role Kelvin was focussed on the development and deployment (in IBM products and services offerings) of XML technology (including parsers, style sheet engines and web services components). Kelvin was a member of the W3C XML Binary Characterization Working Group which investigated the possible creation of a binary XML format. Kelvin is also very interested in declarative application design (using XML grammars to design applications and user interfaces) and is investigating many related technologies. Kelvin also spends quite a lot of his time travelling and meeting with IBM customers world wide, a part of his job that he enjoys very much.
In 2002 Kelvin was listed as One of the 50 most important people in networking by NetworkWorldFusion magazine. Previously Kelvin was heavily involved in the prototyping and development of several projects based on Java (tm) Technology and more recently XML based technologies. Kelvin has been heavily involved in the definition of several internet standards. He was the IBM representative to the World Wide Web Consortium (W3C) Scalable Vector Graphics (SVG) 1.0 working group, which defined the industry standard XML grammar for transmitting graphical documents over the internet.
An active member of the Java and XML community for many years, Kelvin continues to work with these and other emerging technologies. He has spent a lot of time teaching and lecturing on topics ranging from " XML 101" to "Advanced XML programming in Java" and "Advanced Web Services". In recent years he has spoken at numerous events including The Colorado Software Summit, Evolve, SHARE, WWW 10, Common, XML One, Software Developer West, and JavaOne. He co-chaired the XML One conferences in London in 2000 and 2001.
Kelvin's background and prior work focus is in the area of computer operating systems with a particular focus on graphical user interfaces and computer graphics subsystems as well as Java (tm) technology. These areas remain of great interest for him. During the late 1980's until the mid 1990's , based initially in the UK and later in Boca Raton, Florida, Kelvin held various development roles in the IBM OS/2 team. For several releases Kelvin led the teams that worked on the OS/2 Presentation Manager and the OS/2 Graphics Engine. He also was overall technical lead for some OS/2 releases. He also led the team in Austin, Texas that worked on porting Java to OS/2. Kelvin has probably never worked harder not experienced a better camaraderie and team spirit than he found during the mammoth (100 hour) work weeks spent developing OS/2.

Kelvin has written numerous articles on a variety of related topics and has presented lectures on a wide variety of topics at conferences all over the world. Kelvin currently has 85 issued patents in areas such as computer operating systems, mobile devices, and human computer interfaces that have been filed in the United States and elsewhere . Kelvin has also been recognized inside of IBM for these contributions and awarded the title of Master Inventor. Kelvin has twice been a recipient of an IBM Corporate Award and has been invited three times to the IBM Corporate Technology Recognition Event (CTRE).

Kelvin has been with IBM in a variety of differing roles since 1986. Born, raised and educated in England, he joined IBM UK in 1986 working at the Hursley Laboratory. He transferred full time to Boca Raton in the United States in 1990 before moving to Austin Texas, where he currently resides, in December 1995.

Kelvin holds a B.Sc. (Honours) degree in Computer Science from the University of Brighton (formerly Brighton Polytechnic) in England.
Outside of work, Kelvin enjoys spending as much time as possible with his family as well as playing and watching sports. He also enjoys reading, taking photographs, watching movies, listening to music and traveling to new places.

---
I have also made available my full CV (Resumé) for those who want a little more insight into my technical background.

---